2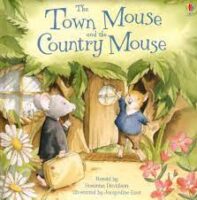 When:
November 22, 2021 through January 24, 2022
Price:
100 per grade

The Town Mouse and the Country Mouse is base don the age-old fable whose moral – ina nutshell – reminds us that "there's no place like home."
When Mandy van Mouse, a big-city music agent, becomes lost while traveling on vacation, she finds herself in the country at the house of Delmer Mouse and his family.
Delmer has just asked Jocelyn Mouse to marry him, and the family is happy and celebrating. Will all that change when Mandy van Mouse offers Delmer a shot at fame and fortune in the "big city?" Will Delmer give up Jocelyn and his quiet country life to be a star? Or will Mandy van Mouse decide that she's not such a city-slicker after all?
Your students will love this free-wheeling musical that is sure to have them tapping their toes and giggling.