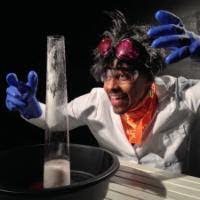 When:
October 30, 2019
Price:
$9.00

We all know the beloved story of Frankenstein, but you won't believe our spin on it! Let's take a journey back in time to when Dr. Frank N. Stein first found his love for all things STEM!
Join Dr. Frank N. Stein as he brings his masterpiece to life! The only problem this bumbling doctor has is that he just can't seem to figure everything out. With the help of your students and his gritty assistant, Igor, they are able to explore the world of Science, Technology, Engineering and Math to bring their creation to life!
This entertaining and truly captivating show helps introduce your students to the benefits and real-life applications of STEM.
This adaptive story makes learning scientific terms a breeze! The fun take on a spooky tale will have your students engaged from start to finish.