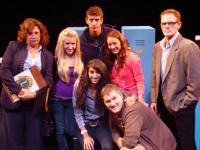 When:
November 6, 2019
Price:
$9.00

Make Your School-A Bully Free Zone! 
This original musical addresses the issue of bullying in the schools. The work focuses on bullying in the classroom, cafeteria, and schoolyard, with strong emphasis on the rising incidents of Cyber-Bullying.
Cyber-bullying and technology abuse have become two of the biggest issues facing students today. While these modern innovations are a welcome means of efficient communication, unfortunately, they can also be tolls for a new kind of bullying: cyber-bullying. Students learn an important lesson-technology can be awesome but needs to be used responsibly.
The story intertwines the stories of Tom Brinkman and Julie Abertson. Julie is a new student and Tom has been in the school system his entire life but has had trouble fitting in. Then there is Logan Montrose the Queen Bee of the school, her assistant Kaitlin Schuyler, a well meaning but ultimately weaker girl who is most concerned about fitting in, and Victor Simmons is the school bully and Tom is his particular target.
The play presents a range of scenarios and provides active solutions to the various issues. The performance will be followed by a question-and-answer period with the audience.
Curriiculum Connections: NYS Arts Standards 3 and 4; English Language Arts Standards 1, 2, 3, and 4; Social Studies Standard 5; Health, Physical Education, and Family & Consumer Sciences Standards 2 and 3.
Performance is presented at the College of Staten Island 2800 Victory Blvd Staten Island NY 10314