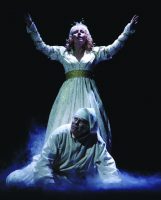 When:
December 12, 2019
Price:
$9.00

Based upon the famous classic by Charles Dickens and perhaps the best loved holiday story of all time, a Christmas Carol is a heartwarming story of the transformation of Ebenezer Scrooge from a greedy, heartless miser to a generous, loving man.
Watch Mr. Scrooge have a change of heart from stone to gold as he is visited by the ghosts of Christmas. All the joy, sentiment and meaning are here, without being too scary for young audiences.
When the play opens, Scrooge is in his counting house in London. He is a
"squeezing, wrenching, grasping, scraping, clutching, covetous old sinner!"
Three ghostly visits – from the ghosts of Christmas past, present, and
future – leave an indelible impression on Ebenezer.
Filled with love and the true spirit of the Holiday season, he begins to change his selfish ways
and open his heart to those around him.
Delight in this classic tale of Ebenezer, the ghosts, Bob Cratchet, and Tiny Tim in this lively and heartwarming musical performance.