2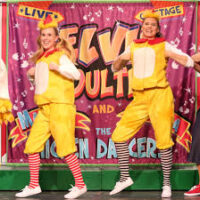 When:
Available until the end of the 2021-2022 school year
Price:
100 per grade

Every barnyard has its bully!
But two of the barnyard's chickens, Marge and Lola, will not stand idly by this musical portrays the colorful story of these two barnyard chickens on a mission to win the barnyard talent contest first prize of two tickets to see the great Elvis Poultry in concert! But first, they must present a performance that will score higher than a flock of very talented ducks, led by Mac who loves to play the bully.
Can Marge and Lola face their challengers, against all odds, and win the talent contest?
THIS PROGRAM IS MADE POSSIBLE THROUGH THE GENEROUS FUNDING FROM CON EDISON