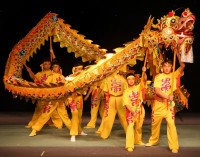 When:
March 3, 2020
March 4, 2020
March 30, 2020
Price:
$9.00

The New Shanghai Acrobats is one of the world's leading purveyors of China's 2,500 year-old art form. The performers are some of the best acrobats in the world. The New Shanghai Acrobats have been touring the world since 1991 and has received more national Gold, Silver and Bronze medals than any other acrobatic troupe
A wonderful introduction to Chinese culture!  Students will learn the beauty of Chinese culture through traditional Chinese dance, colorful costumes, and both ancient and contemporary music & theater.
These amazingly supple and lightning-fast performers provide astonishing displays of acrobatic wizardry that "reach literally breathtaking heights of skill. 
This performance will leave the audience breathless.
Performance is presented at the College of Staten Island 2800 Victory Blvd Staten Island NY 10314