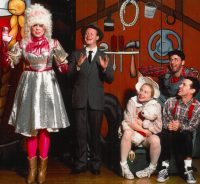 When:
December 17, 2018
Price:
$8.00

In this production of The Enchanted North Pole Workshop, Stanley and his sister SuSu embark on a journey to the North Pole in search of Santa.
Stanley doubts his existence, and young SuSu is disturbed by the notion that Santa may not exist. But when a blizzard causes them to lose their way, they find shelter in an old gas station building.
It's there that they meet Old Nick, who convinces them that the old gas station is really Santa's Enchanted Workshop (#63) and that he, himself, is Santa.  Stanley and SuSu learn that, with a little imagination, Holiday magic can light up even an old garage.
 With Nick's help, Stanley's faith is restored and the children are reminded that it's not the gifts of The Holiday that are important, but simple faith that keeps life magical:
 "Now we believe, and now we see that all the magic things in life are ours for free. We'll open our eyes before time flies by. This old world's brighter than we thought a world could be."
Curriculum Connections:  Family Ties, Folk Tales, Music, Reading, Self-Esteem, Tales from Other Lands