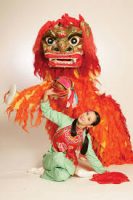 When:
February 11, 2019
Price:
$8.00

Journey across the Atlantic to see the splendid lion dance, experience the color and the excitement of the dancing silk ribbons and the strength and agility of Peking Opera martial art.
"Dragon's Tale" features dances inspired by traditional Chinese festivals and rituals. Using intriguing props, colorful costumes and ingenious choreography, the Nai-Ni Chen dancers embody the excitement of traditional Chinese celebrations and contemporary Chinese American culture. Nai-Ni Chen combines martial arts, acrobatics, folk and modern dance to create an experience that makes ancient culture accessible to everyone.
In Chinese mythology, a dragon has the head of a camel, the horns of a stag, the eyes of an awakened spirit, the scales of a fish, the claws of an eagle, the pads of a tiger, the ears of a bull, and the long whiskers of a cat. It is not a terrifying monster, but a benign creature that embodies wisdom and strength, long life and prosperity — it is the symbol of Chinese civilization.
Detailed narration on the background and inspiration of each dance also enhances the educational experience. Audience participation is included and encouraged during the program.
Curriculum Connections: Social Studies, Music, Dance, Visual Arts
Performance is presented at the College of Staten Island 2800 Victory Blvd Staten Island NY 10314