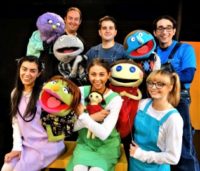 When:
January 23, 2020
Price:
$9.00

This is the story of  Peg, a young girl who witnesses the bullying of Nellie on the playground, and how she comes to terms with her responsibility. Peg, like so many bystanders, is faced with the choice of standing up for Nellie or standing by.
Wondering about how Nellie feels, Peg is launched into a wonderland of fantastical folks who teach her that you don't stand by—you stand up! Stand Up! Stand Out! features live actors, puppets, and a toe-tapping original score.
The aim of the play is to make our young people aware that doing nothing is doing something. Stand Up! Stand Out! is specifically Peg's story—the journey of an individual taking responsibility beyond herself. Peg discovers different ways that she can help Nellie without getting herself or others into trouble. The difference, as one teacher explained, between tattling and telling is that tattling is to get someone into trouble and telling is to get someone out of trouble.
In addition, the play outlines four different types of bullying:
Name calling and teasing;
Social isolation
Threatening
Physical bullying