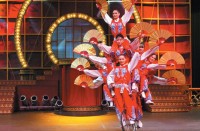 When:
April 9, 2019
Price:
$9.00

The Golden Dragon Acrobats represent the best of a time honored tradition that began more than twenty-five centuries ago. The Golden Dragons are recognized throughout the United States and abroad as the premiere Chinese acrobatic touring company of today.
This fast-paced, technically-innovative performance showcases traditional Chinese acrobats, dance and costumes, ancient and contemporary music and modern theatrical techniques. The renowned acrobats dazzle with amazing feats of athleticism, daring heart-stopping stunts and the grace of their centuries old art form. The large cast and dazzling production designs illustrate just how breathtaking Chinese acrobatics can be.
The reputation of the company is solidly rooted in a commitment to the highest of production values and an attention to artistic details that is unparalleled in the art form. World renowned impresario Danny Chang and choreographer Angela Chang combine award-winning acrobatics, traditional dance, spectacular costumes, ancient and contemporary music and theatrical techniques to present a show of breathtaking skill and spellbinding beauty.
The Golden Dragons remind us that we belong to the same world and we share the same aspirations and dreams. Let your students be a part of the experience of something spectacularly beautiful.