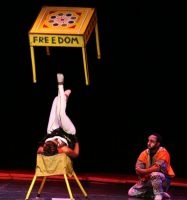 When:
February 12, 2018
Price:
$9.00

Cirque Zuma Zuma is a dazzling ensemble of African dancers, acrobats, contortionists, jugglers and more. Such is the standard of the performers and the quality of the show's live musical score that It is often described as an African-style Cirque du Soleil. A 2011 finalist on NBC's popular program, America's Got Talent, the company wows audiences with a full-length show filled with non-stop action and performances of all different types of African variety arts.
¦   South African female vocalist
¦   Limbo dance
¦   Female dancers from Africa
¦   South African gumboot dancers
¦   Amazing pole acts
¦   Zuma Zuma Acrobats
¦   Chairs handstand balance from Tanzania
¦   Comedy
¦   Gabonese tumblers
¦   Contortionists from Ethiopia
¦   Africa Africa lion dance
¦   Percussionists from Zimbabwe
¦   Club juggling
¦   Ethiopian foot table juggling
The tradition of dance and acrobatics in Africa goes back over 2,500 years. The members of African Acrobats International Academy uphold this centuries-old tradition through their training, artistry and touring performances. The organization was founded in East Africa as a private school with a goal of providing entertainment to the tourist hotels in Africa. Cirque Zuma Zuma was established about a decade later, in late 2005, as a touring arm of the company with a mission of teaching the world about African cultures. African Acrobats International now has training schools in Tanzania, Ethiopia, Kenya and Las Vegas. Due to the physical demands, the stage careers of Cirque Zuma Zuma's performers may not extend much beyond their 30th birthdays. The performers have toured the world, presenting more than 150 performances annually.
In addition to training performers, African Acrobats International is working to collect and publish a number of African opera scripts and historical texts as well as issuing DVDs and videos for education and promotion of the traditional arts of Africa.
Performance is presented at the College of Staten Island 2800 Victory Blvd Staten Island NY 10314