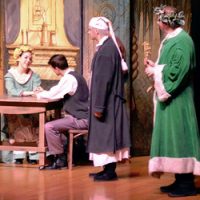 When:
December 19, 2017
December 21, 2017
Price:
$8.00

Sundog Theatre brings you Scrooge, the three Ghosts of Christmas, Tiny Tim and a host of other Dickensian characters in this beloved tale of redemption and enchant- ment. The show is geared towards young audiences, and is appropriate for all ages. Charles Dickens first told his tale in the mid 1800's, and it has remained a favorite story – humorous, touching, and joyous.
Sundog's presentation stays true to Dickens' original story, adapted for the stage by Cash Tilton and original songs by Susan Mondzak–with six professional actors. Children enjoy richly drawn characters that pop out of the book and onto the stage. And they'll be thrilled when they see a child chosen from the audience to portray Tiny Tim!
In the guise of a ghost story, A Christmas Carol explores universal themes and is a literary classic. And the show celebrates the spirit of the season whether it is Christmas, Hanukkah, or Kwanzaa. Audience members leave the theatre singing the songs!
Curriculum Connections: Family Ties, Language, Literary Classic, Music, Reading.
Performance is presented at the College of Staten Island 2800 Victory Blvd Staten Island NY 10314